Are you looking to sell your gently used furniture in Austin? The city offers a plethora of options for selling and donating furniture, from local stores to online marketplaces. In this comprehensive guide, we'll give you the best places to sell furniture in Austin, as well as provide valuable tips for making your furniture sale a success.
Short Summary
Top local furniture stores in Austin for selling used furniture include Room Service Vintage, Five Elements Furniture, and Austin Furniture Consignment.

Popular online marketplaces to sell furniture include Craigslist, Facebook Marketplace, Buy/Sell Groups and OfferUp Austin.

Tips for successful sales of used furniture in Austin include paying attention to presentation. Providing accurate descriptions, quality photos, researching local pricing, partnering with reputable dealers & taking steps to stage your pieces prior to sale.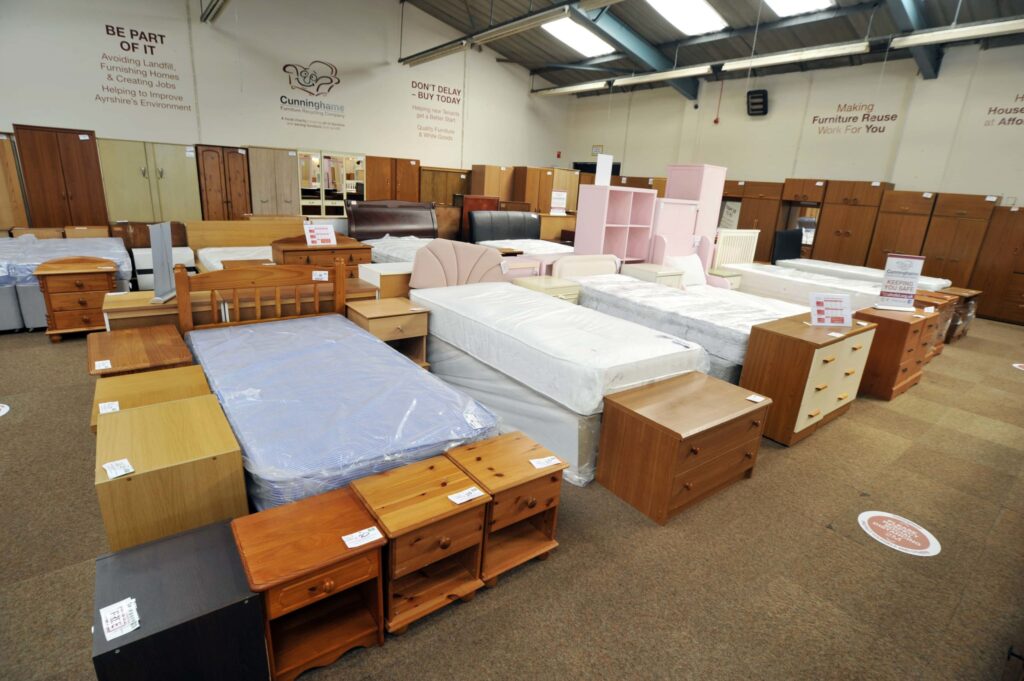 Top Local Furniture Stores in Austin
One of the most authentic ways to sell used furniture in Austin is through local furniture stores, antique stores, and consignment shops. These establishments specialize in acquiring and reselling secondhand furniture, catering to a wide range of tastes and budgets. Not only do they offer a more personal touch compared to online marketplaces, but they also provide a platform for showcasing your furniture pieces to potential buyers in a more tangible way.
Some of the top local furniture stores in Austin for selling used furniture include Austin Furniture Consignment, Room Service Vintage, and Five Elements Furniture. Each of these stores has its unique approach to the selling process and caters to different types of furniture, ensuring that you find the perfect platform for your pieces.
Room Service Vintage
Room Service Vintage offers a carefully chosen array of vintage furniture and accepts consignments of unique items on their upscale resale site. If you have a one-of-a-kind vintage piece that you'd like to sell, this vintage shop could be the perfect platform for showcasing your furniture to a niche market of vintage enthusiasts.
Keep in mind that, like most consignment stores, there will be a commission fee associated with the sale, so be sure to factor this into your counter price considerations when determining the final selling price.
Five Elements Furniture
Five Elements. Furniture is a locally owned contemporary furniture store located in Austin, TX, specializing in modern pieces, including outdoor furniture, that can be tailored to fit any room in a home. They occasionally accept trade-ins for high-quality, gently used items, making it an attractive option for those looking to sell their modern furniture and possibly acquire new pieces in the process.
To find out more about their trade-in policy and the types of furniture they accept, you can visit their website at fiveelementsfurniture.com.
Austin Furniture Consignment
Austin Furniture Consignment is a well-known store that specializes in high-quality, used furniture for sale on a consignment basis, including office furniture. They accept high-end, pre-owned, and restored pieces in excellent condition for consignment, making it a great option for those looking to sell their high-end items.
To consign with Austin Furniture Consignment, you'll need to upload photos of your items and submit the details via email. They will respond within one business day to coordinate a pickup time and discuss the consignment terms. You will receive a percentage of the profits when your furniture sells.
If your item does not sell within a specified time frame, the price may be decreased, or it may be unlisted, giving you the option to re-list the item or pick it up.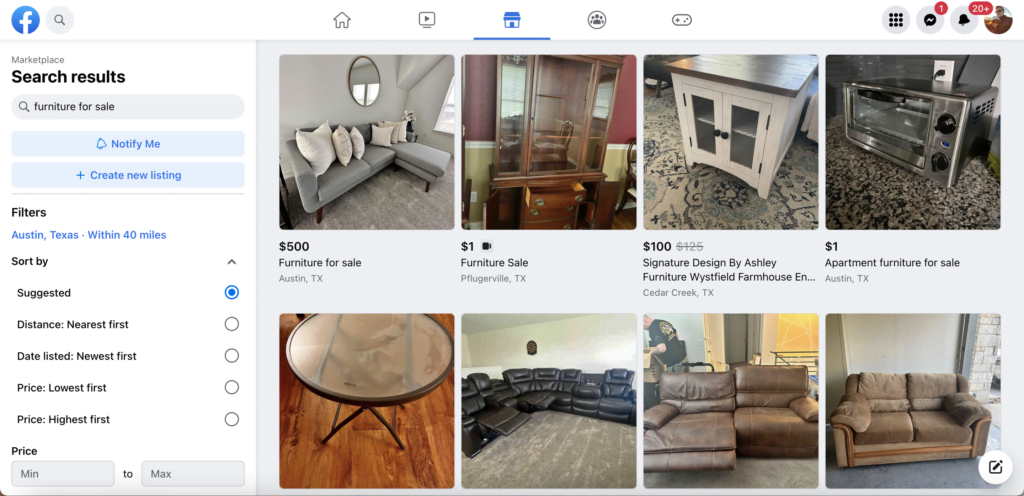 Online Marketplaces for Selling Furniture in Austin
Selling furniture online has become increasingly popular in recent years, expanding your reach beyond the local area and potentially increasing the likelihood of securing a more lucrative sale. Online marketplaces provide the opportunity to showcase your furniture to a wider audience and often comes with the added benefit of easy communication with prospective buyers.
Some of the most popular online marketplaces for selling used furniture in Austin include Austin Craigslist, Facebook Marketplace and Austin Buy/Sell Groups, and OfferUp Austin. Each platform has its own unique features and advantages, catering to different preferences and needs when it comes to selling furniture online.
Austin Craigslist
Austin Craigslist is a free classifieds platform that allows users to post used furniture for sale, including photos and descriptions. Listing an item on Craigslist is simple and straightforward, requiring only the necessary details about your piece and a few photos to catch the attention of potential buyers.
One of the biggest advantages of using Austin Craigslist is that it's free of charge, meaning there are no fees for listing or selling your furniture. Buyers are responsible for arranging pick-up of the items in person, making it a great option for those looking to sell furniture locally without incurring additional costs.
Facebook Marketplace and Austin Buy/Sell Groups
Facebook Marketplace and Austin Buy/Sell Groups offer another convenient option for selling used furniture locally. These platforms allow you to post listings with photos and descriptions, reaching a wide audience of potential buyers within your local community. Creating a listing on Facebook Marketplace is quick and easy, taking about 60 seconds.
The advantage of using Facebook for selling furniture is that there are no fees involved, and communication with potential buyers is seamless through the platform's built-in messaging system. Additionally, you can boost the visibility of your listing by posting on local Facebook garage sales pages, increasing the chances of attracting potential buyers.
OfferUp Austin
OfferUp Austin is a free app that allows you to sell used furniture locally with just a few taps on your smartphone. To create a listing, simply take a photo with your phone, upload it to the app, and fill in a few details, such as description and location.
OfferUp enables easy communication with potential buyers through its in-app chat feature, allowing you to quickly answer questions, negotiate prices, and arrange a meeting to complete the transaction. The app's user-friendly interface and convenience make it a popular choice for those looking to sell furniture fast and hassle-free.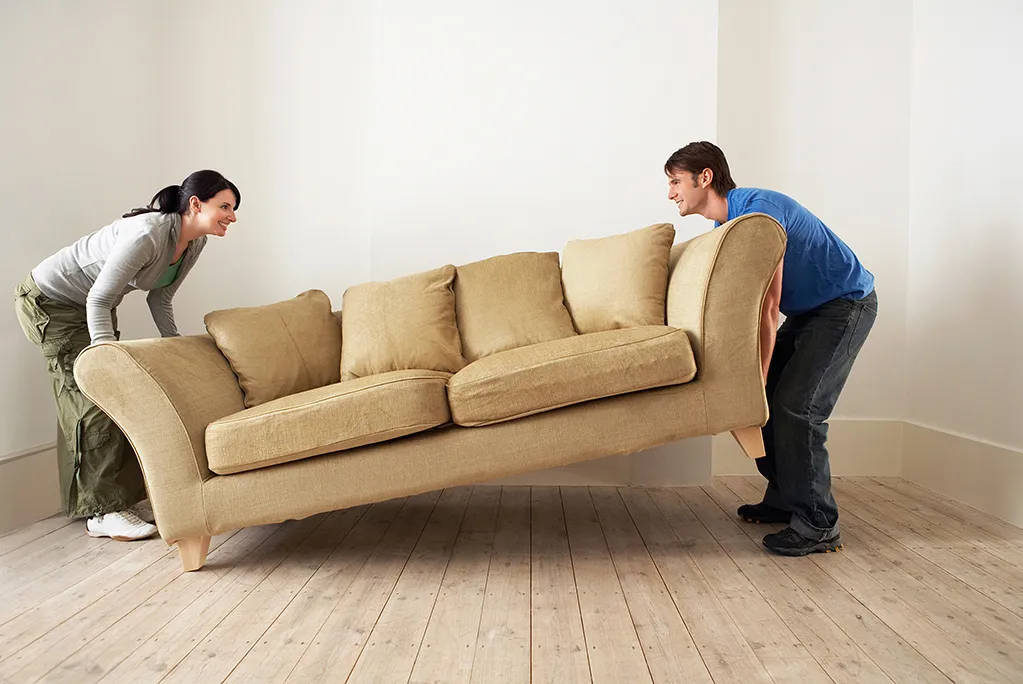 Tips for Selling Used Furniture in Austin
To ensure a successful furniture sale, it's crucial to pay attention to the presentation of your furniture, provide accurate descriptions and quality photos, and research local pricing trends, especially when preparing for an estate sale. Partnering with reputable furniture dealers can also help in achieving a successful sale.
In the following sections, we'll delve into these important aspects of selling used furniture and offer practical advice to help you make the most of your furniture sale.
Presentation Matters: Clean and Repair Your Furniture
Before listing your furniture for sale, make sure it's clean and in good repair. A well-presented piece of furniture not only looks more appealing to potential buyers, but also signals that you have taken good care of it, increasing its perceived value.
Vacuum between the cushions of soft furniture to remove any dust. Additionally, check for hair, crumbs or coins that may have gathered over time and discard them. For wooden or metal furniture, wipe down surfaces and fix any loose screws, wobbly legs, or other minor issues that could detract from its overall appearance.
Accurate Descriptions and Quality Photos
When selling used furniture, providing accurate descriptions and high-quality photos is crucial for attracting potential buyers and avoiding misunderstandings. Be sure to highlight any unique features, the condition of the furniture, and its dimensions in your description.
For photos, take clear, well-lit shots from multiple angles, capturing the overall look of the piece as well as any details that may be of interest to buyers. Remember, your photos are the first impression potential buyers have of your furniture, so make them count!
Research Local Pricing Trends
To ensure that your furniture is competitively priced and likely to sell, it's important to research local pricing trends for similar items in the Austin market. Check online marketplaces, local furniture stores, and consignment shops to get an idea of the going rate for items like yours.
Take into account factors such as the condition, brand, age, and style of your furniture when determining your asking price. By pricing your furniture appropriately, you increase the chances of attracting serious buyers and securing a successful sale.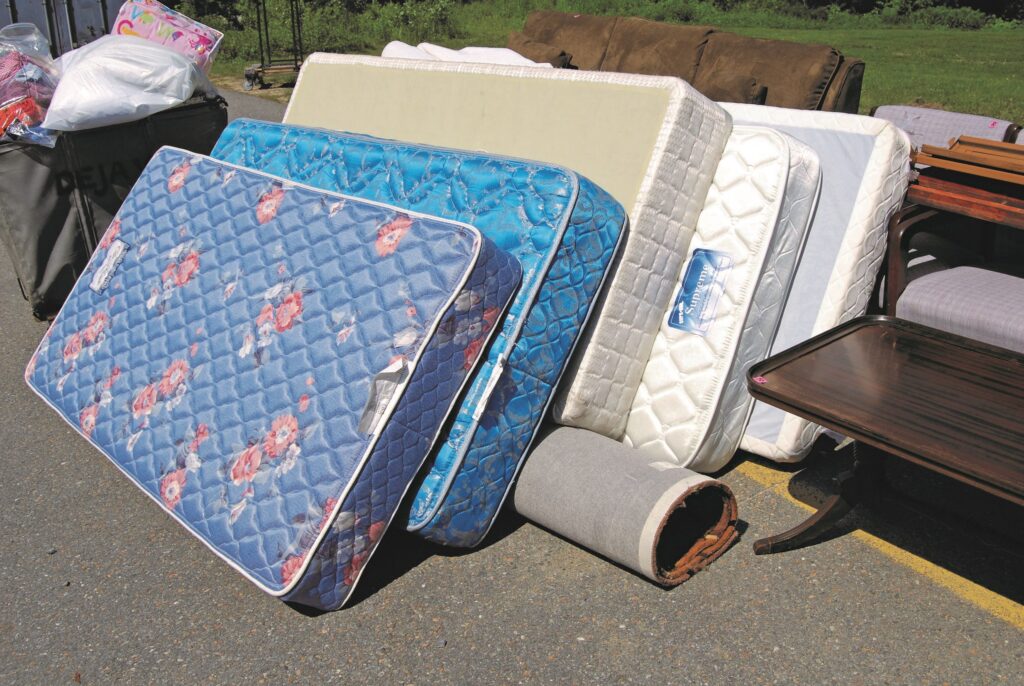 Donating and Recycling Options in Austin
If you're unable to sell your used furniture or simply prefer to donate or recycle it, there are several options available in Austin. Charitable organizations such as Goodwill and Salvation Army accept furniture donations, while city services like Austin Resource Recovery provide recycling and reuse options for unwanted items.
In this section, we'll explore these alternatives and provide information on how to make the most of your furniture donations and recycling efforts.
Asher Field Furniture Store
Looking to upgrade your furniture without the hassle? Meet Asher Field – your solution for seamless furniture transformations in Austin, Texas. Ready to say goodbye to the complexities of furniture removal? Say hello to same-day pickup and delivery at no cost to you.
Goodwill and Salvation Army
Both Goodwill and Salvation Army are non-profit organizations that accept furniture donations and offer pick-up services for larger items, making it easy for you to donate your unwanted furniture. These organizations then sell the donated items in their stores, with the proceeds going towards their charitable missions.
By donating your used furniture to Goodwill or Salvation Army, you can not only free up space in your home, but also contribute to a good cause and receive a tax deduction for your donation.
Ex-Mattress Recycling Austin
When it's time to dispose of your furniture, you need a seamless and eco-friendly solution. That's where Ex-Mattress comes in. We understand the challenges of furniture disposal, and we're here to make the process stress-free, ethical, and convenient for you.
Our mission goes beyond just removing furniture – we're committed to sustainability and responsible waste management. When you choose Ex-Mattress, you're not only getting rid of your old furniture; you're contributing to a greener future and supporting global rainforest restoration efforts.
Austin Resource Recovery
Austin Resource Recovery, a department of the City of Austin, provides comprehensive services for waste management and recycling, including furniture pick-up and disposal. They collect furniture and other bulky items for recycling, ensuring that your unwanted pieces are disposed of in an environmentally responsible manner.
In addition to furniture recycling, Austin Resource Recovery also offers composting, hazardous waste disposal, and curbside collection of trash, recycling, and yard trimmings. To learn more about their services and schedule a furniture pick-up, visit their website or contact their customer service line.
Preparing for a Successful Furniture Sale
Now that you have a better understanding of the various options for selling, donating, and recycling used furniture in Austin, it's time to prepare for a successful sale. In the following sections, we will discuss how to organize and stage your furniture, as well as offer tips on negotiating and closing the deal with interested buyers.
By following these guidelines, you'll be well on your way to a smooth and profitable furniture sale.
Organizing and Staging Your Furniture
To showcase your furniture's best features and make it more appealing to potential buyers, it's essential to organize and stage your pieces effectively. Arrange your furniture in front of an uncluttered, neutral backdrop to highlight its design and colors.
Use props and decor items such as old books, baskets, and vases to enhance the staging and create an inviting atmosphere. By presenting your furniture in an attractive and well-organized manner, you increase the chances of attracting interested buyers and ultimately making a successful sale.
Negotiating and Closing the Deal
When it comes to selling used furniture, negotiation is often a crucial part of the process. Be prepared to discuss the terms of the sale, including the price, delivery, and any other relevant details with potential buyers. Keep in mind that flexibility and willingness to compromise can often lead to a win-win situation for both parties.
Once you have reached an agreement, review the terms, sign any necessary contracts, and exchange payment to finalize the deal. By being prepared and confident in your negotiations, you'll ensure a smooth and successful furniture sale.
Summary
In this comprehensive guide, we've explored the various options for selling, donating, and recycling used furniture in Austin, as well as provided valuable tips on presentation, accurate descriptions, pricing, and negotiation. Whether you choose to sell your furniture through local stores, online marketplaces, or donate it to a worthy cause, following the advice in this guide will help you make the most of your furniture sale, ensuring a smooth and successful experience. So go ahead, take the plunge, and start turning your used furniture into cash or contributing to a good cause today!
Frequently Asked Questions
How do I sell my expensive pieces of furniture?
List your expensive furniture on popular sites such as Craigslist, eBay, OfferUp, Chairish, Bonanza, Facebook Marketplace, ArtDeco, 1dibs and Oodle to get the best offers from buyers.
Professionalism and customer service are essential when selling high-end pieces.
What sites are good to sell furniture?
eBay, Craigslist, OfferUp, Chairish, AptDeco, Facebook Marketplace and LetGo are all great websites for selling furniture. Whether you're wanting to make a quick sale or find quality pieces at a good price, these sites provide great options.
How can I sell all my furniture at once?
Maximise your chances of selling all your furniture quickly by utilising a variety of used furniture marketplaces such as Apartment Therapy, Bonanza, Bookoo, Chairish, Craigslist, 1st Dibs, eBay and Etsy.
What are some popular local furniture stores in Austin for selling used furniture?
For those looking to buy used furniture in Austin, Austin Furniture Consignment, Room Service Vintage, and Asher Field Furniture Store are great local stores to visit.
What should I consider when preparing my used furniture for sale?
Ensure your furniture is clean and repaired, provide accurate descriptions and photos, and research local pricing trends for maximum marketability.