Disposing of an old mattress can be a daunting task, especially if you're not aware of the various options available. In this comprehensive guide on how to dispose of a mattress in Kyle TX, we'll explore a range of mattress disposal solutions in Kyle, TX, helping you find the most convenient and eco-friendly way to get rid of your old bed and make room for a new one.
Key Takeaways
Understand Kyle, TX mattress disposal options and the various associated costs.

Recycle or donate your old mattress to reduce landfill waste while enriching your community.

Adhere to legal considerations when disposing of a mattress in order to avoid potential fines.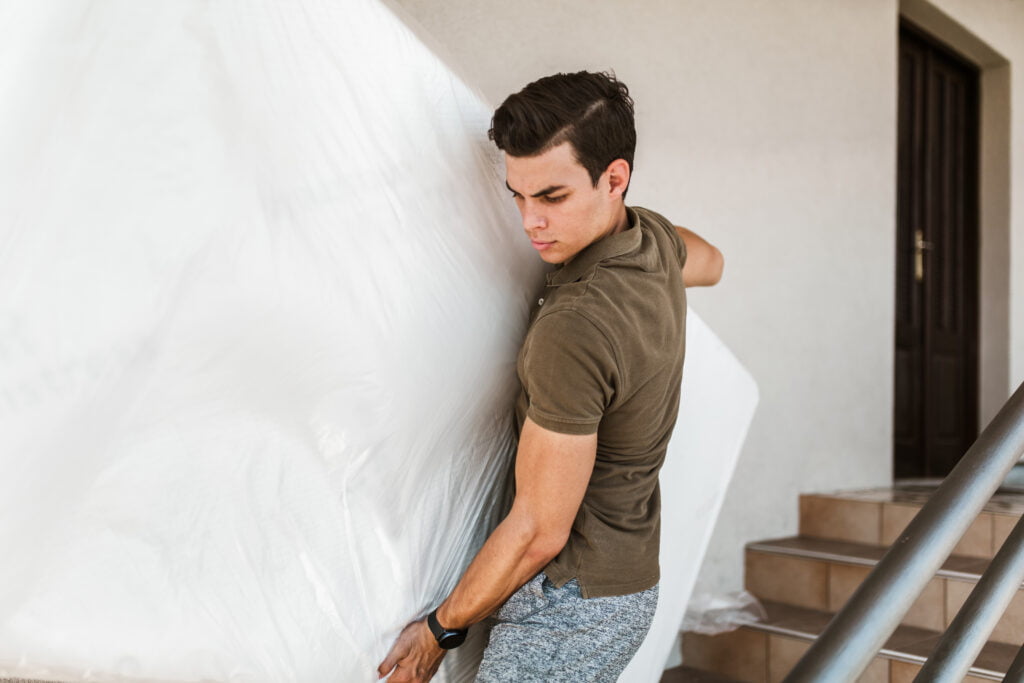 Understanding Kyle, TX Mattress Disposal Options
Navigating the world of mattress disposal can be confusing. With options like recycling centers, donations, and curbside pickup services, finding the best solution for your old mattress in Kyle, TX, can be a challenge.
We will simplify this process by delving into the details of these options to help you decide the one that best fits your needs.
Free Bulky Pickups: Twice-Yearly Service for Kyle Utility Customers
Twice a year, Kyle utility customers have the option to reach out to TDS for free pickups of bulky items like furniture, appliances, or bundled brush, with each pickup covering up to 3 cubic yards (approximately the size of a washer and dryer). For yard waste, bundling is necessary, requiring items to be tied and cut into four (4) foot lengths, not exceeding 35 pounds per bundle. Limbs within the bundle should have a diameter of no more than four (4) inches. To schedule this service, you can contact TDS at 1-800-375-8375.
Recycling Centers in Kyle, TX
Local recycling centers in Kyle, TX, provide a convenient and eco-friendly option for disposing of your old mattress. Search engines like ByeByeMattress or Earth911 can guide you to local recycling facilities that accept mattresses and box springs.
When you recycle your old mattress, you not only minimize landfill waste but also give a new lease of life to valuable materials like metal springs, foam, and fabric, by allowing them to be transformed into new products. Keep in mind, however, that some city recycling programs may charge a small fee for dropping off mattresses or box springs.
Donating Your Mattress in Kyle, TX
A gently used mattress can be a valuable contribution to a local charity or organization in Kyle, TX, aiding those in need while enriching your community. To donate your mattress, ensure it's in good condition, free of dirt or unpleasant smells, and free of pests. To find local charities that accept mattress donations, try using online resources like Donation Town, which offers a free searchable database of local charities.
Sprinkle some baking soda on the surface of your mattress if it has a slight odor. Let it sit for a few hours and then vacuum up the residue. If the odor persists, reconsider donating the mattress, as it may not be in an acceptable condition.
Remember that donating your old mattress not only helps those in need but also contributes to reducing landfill waste.
Curbside Pickup Services in Kyle, TX
If you want a mattress disposal experience without any hassles, you might want to think about using mattress pickup services in Kyle, TX. Some service providers, such as Ex-Mattress, offer convenient curbside pickup options for your old mattress. To utilize this service, you'll need to call and arrange a pickup time, and a representative will come to your home to collect the mattress.
This option saves you the heavy lifting and transportation associated with mattress disposal, making it an easy and convenient choice for many homeowners.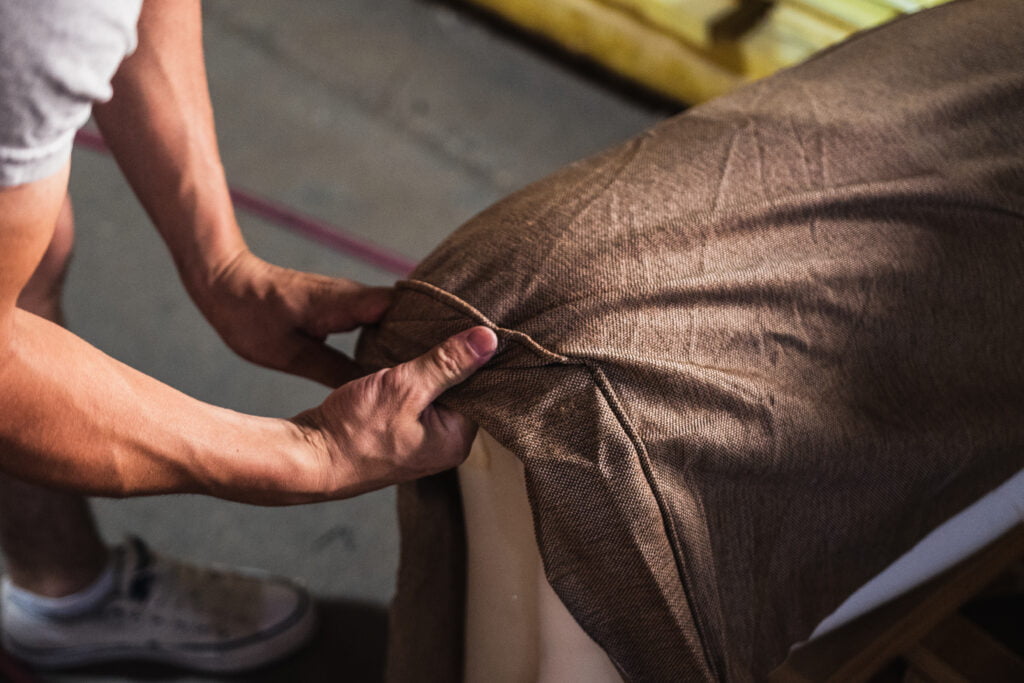 Eco-Friendly Mattress Disposal Solutions
As environmental awareness increases, more people are seeking eco-friendly solutions for disposing of their old mattresses. This section will delve into green mattress recycling options and innovative upcycling ideas, aimed at guiding you towards the ideal eco-friendly solution for your unwanted mattress.
Recycling is a great way to reduce the environmental impact of disposing of a mattress, and the Mattress Recycling Council plays a significant role in this process.
Green Mattress Recycling
Green mattress recycling is a sustainable and eco-friendly method of disposal that helps reduce landfill waste by repurposing the materials found in your old mattress. Approximately 80 to 90 percent of most mattresses can be disassembled and recycled, including:
Steel springs

Wood frames

Stuffing

Fabric
By recycling your old mattress, you're not only helping the environment but also contributing to the creation of new, environmentally-friendly products.
Hays County in Kyle, TX, provides mattress recycling services to help residents dispose of their old mattresses in an eco-friendly manner. By opting for green mattress recycling, you can feel good knowing that you're making a positive impact on the environment and reducing your carbon footprint.
Upcycling Ideas for Old Mattresses
If you're feeling creative and want to give your old mattress a second life, consider upcycling it into something new and functional, instead of purchasing a new mattress. You can transform an old mattress into unique furniture pieces, such as a couch, bed frame, or bench, by repurposing the metal springs or wooden frame.
For a more artistic approach, you can use the mattress fabric to create a quilt or wall hanging or repurpose the metal springs from a box spring to construct an eye-catching sculpture or wind chime.
By upcycling your old mattress, you're not only reducing waste but also creating a one-of-a-kind piece that adds character and charm to your home.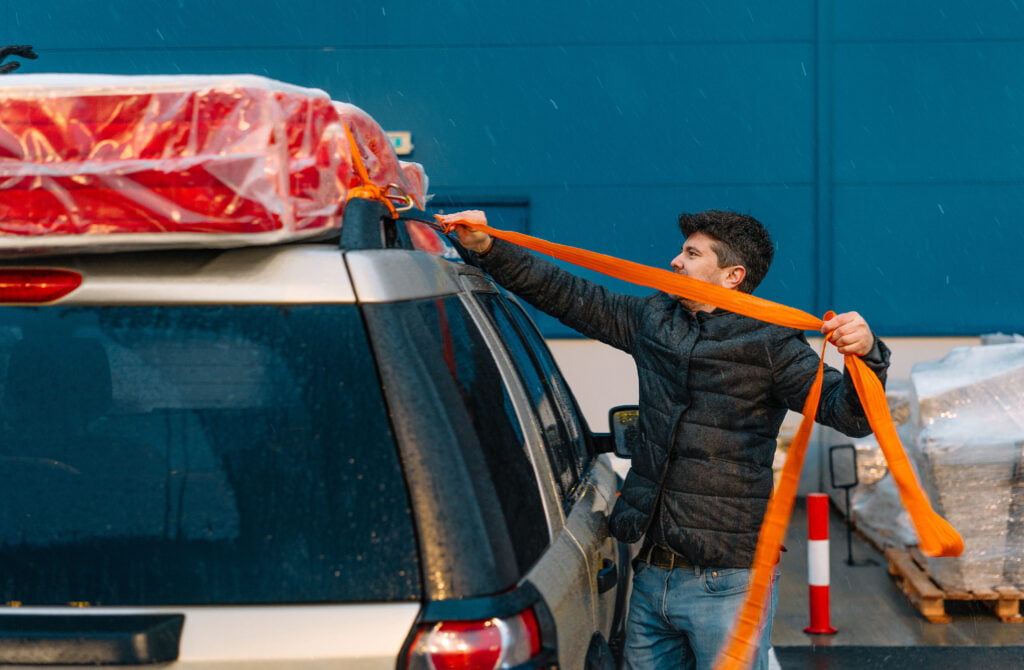 Preparing Your Mattress for Disposal
Prior to disposing of your old mattress, it's important to suitably prepare it for disposal. This includes cleaning the mattress to ensure it's free of dirt and debris, as well as wrapping it in a heavy-duty plastic wrap or mattress bag to protect it during transportation.
To disassemble your mattress, if necessary, remove the mattress cover and cut the mattress into smaller pieces. This can make it easier to transport and dispose of, especially if you're using a smaller vehicle or need to navigate tight spaces.
Always ensure you're aware of any legal considerations and regulations surrounding mattress disposal in your area to avoid potential fines or penalties.
Local Businesses That Accept Mattresses
There are numerous local businesses in Kyle, where you can dispose of your gently used mattresses, providing you with an additional option. Some of these businesses include:
Ex-Mattress > (512) 537-9270

Mattress Firm Kyle Crossing II

Discount Mattress

BoxDrop Mattress Kyle Buda

Factory Mattress

Walmart in Kyle, TX
These businesses are known to accept gently used mattresses, unless the mattress unsuitable for use due to damage or extreme wear.
Be sure to contact these businesses to inquire about their individual policies and processes for accepting mattresses, as each may have different requirements and procedures in place.
Online Marketplaces and Giveaway Groups
Should the aforementioned options not meet your needs, you might want to consider putting up your old mattress for sale or giveaway on online marketplaces and groups. Platforms such as:
eBay

Craigslist

the Freecycle Network

Buy Nothing Groups
These platforms allow you to list your mattress for free or a small fee, potentially connecting you with someone in need of a mattress, while ensuring it is free of bed bugs.
To increase your chances of finding a new home for your old mattress, be sure to post clear photos and provide a detailed description of the mattress's condition. This can help potential takers determine if your mattress is suitable for their needs, increasing the likelihood of finding someone to take it off your hands.
Legal Considerations and Regulations
While disposing of your old mattress in Kyle, TX, it's important to stay informed about any legal considerations and regulations that may be relevant. 1. Check with your local, state or city authorities to determine the exact regulations regarding the disposal of mattresses.
Look up ordinances to make sure you are abiding by the rules. Failure to follow these regulations could result in a ticket or fine.
To avoid potential repercussions, always research the proper disposal methods for your mattress and ensure you're following any applicable rules and guidelines. By being informed and responsible in your approach to mattress disposal, you can help keep your community clean and environmentally friendly.
Heavy Lifting and Transportation
The process of disposing of your old mattress typically involves heavy lifting and transportation, tasks that some individuals might find daunting. To make this process easier, you may consider hiring a licensed and insured mattress removal team to assist with lifting and transporting your mattress.
To safely and efficiently lift and transport your mattress yourself, follow these steps:
Measure your mattress to ensure it will fit through doorways and in your vehicle.

Gather necessary supplies, such as a mattress bag, ratchet tie-down straps, and a helping hand.

Secure the mattress inside a bag or wrap it in plastic.

Lift the mattress using proper lifting techniques to avoid injury.

Transport the mattress flat to prevent damage.

Avoid placing heavy objects on top of the mattress.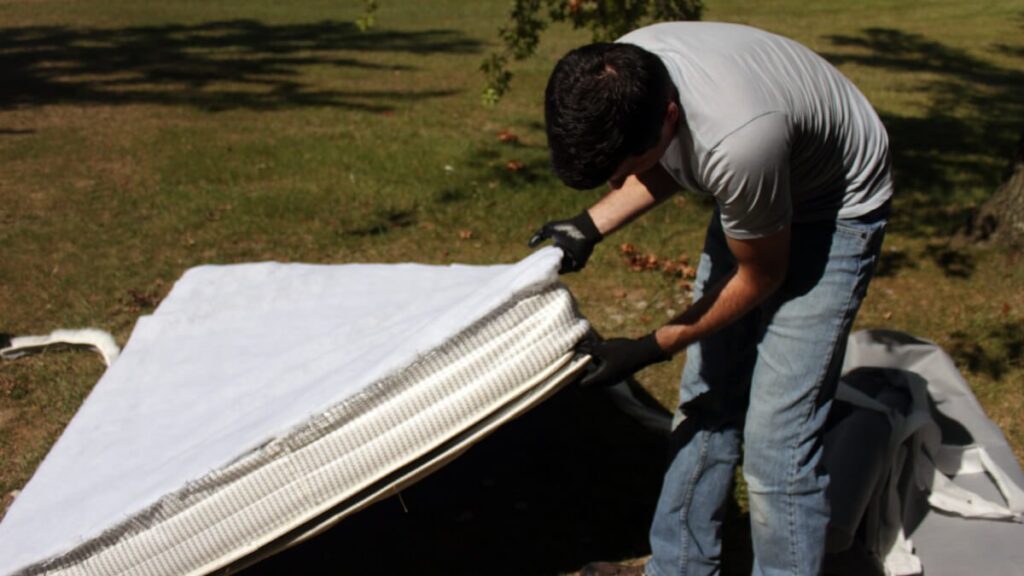 Costs of Mattress Disposal in Kyle, TX
In Kyle, TX, the costs associated with mattress disposal can fluctuate based on the service provider you opt for. Some companies may charge around $25 for mattress disposal, while others may have different pricing structures. To determine the most affordable option for your needs, contact the service provider for accurate pricing information and compare rates among different providers.
Factors that may influence the cost of mattress disposal include the quantity, type, and size of the item being removed. By researching and comparing prices, you can find an affordable solution for disposing of your old mattress in Kyle, TX.
Summary
In conclusion, disposing of your old mattress in Kyle, TX, doesn't have to be a daunting task. By exploring various options such as recycling centers, donations, curbside pickup services, eco-friendly solutions, and local businesses, you can find the perfect solution for your needs. Remember to always consider legal regulations and proper preparation before disposing of your mattress, ensuring a responsible and environmentally friendly approach to mattress disposal.
Frequently Asked Questions
Can I take a mattress to the local dump?
Yes, you can take a mattress to the local dump if you have a large enough vehicle. However, depending on your location, you may incur a fee.
How do I dispose of a mattress in McKinney Tx?
A Bedder World Mattress Recycling offers curbside pickup in McKinney 7 days a week – simply book and pay for a pick up online.
Can I recycle my old mattress in Kyle, TX?
Yes, you can recycle your old mattress in Kyle, TX – local recycling centers accept mattresses for eco-friendly disposal.
How can I donate my old mattress in Kyle, TX?
To donate your old mattress in Kyle, TX, research local charities and organizations accepting donations, and make sure the mattress is in good condition.
Are there curbside pickup services available for mattress disposal in Kyle, TX?
Yes, Kyle, TX offers convenient curbside pickup services for mattress disposal.